Aloia CMS: The flat file content management system for Laravel
Aloia CMS is a content management system for Laravel developers who want to choose between "I want full control over my content" and "Please, let the CMS do the work for me". Everything works automatically out-of-the-box, but you can change every single aspect of the CMS if you so choose.
Documentation
Source code
Most important features
No content management system is complete without a few features that make it work for you and any project you might want to use it with.
Simple to extend
You can easily extend the CMS with your own custom content types. All you have to create your custom content type is:
Extend the base Model
Specify a folder to write the data files to

(Optional)

Specify any required fields
Yes, that's really it!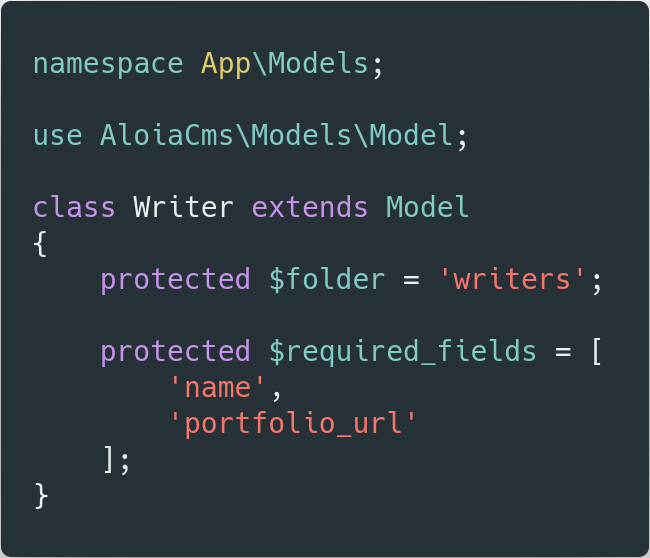 Familiar configuration
Managing content is easy! You can use techniques you might have already used to save your content:
HTML / Markdown / TXT
YAML Front matter
You can choose how you want to write your content, letting the CMS do the rest.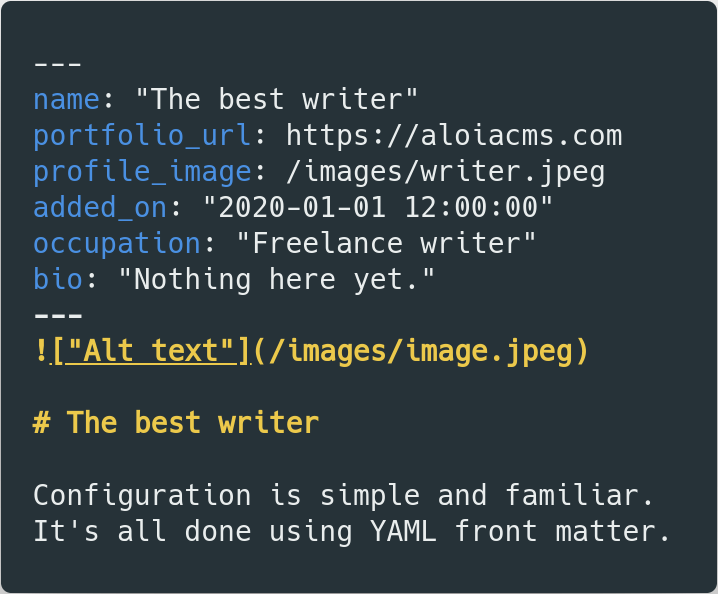 Support the project
You can support this project in many ways: by contributing code, doing marketing, creating visuals, and making a donation.
Make a donation
Latest news
Version 1.0.0 has released!
Version 1.0.0 has finally released and it's more powerful than ever before! Before upgrading from v0.x, here are the changes that made this new major version happen.
The road to version 1.0
There have been a lot of changes in the past few weeks and this means we're expecting to release the first stable version of the CMS in February.
Aloia CMS has arrived
The ongoing development of Flat File CMS has been going really well. In the past few months there have been several new plugins and major improvements in the system. So it's about time the CMS gets a proper name: Aloia CMS.
Are you wondering who uses Aloia CMS in production?
Aloia CMS is already used in production for a few websites. The content management system gets better with every website that's developed with it.
Find out who uses Aloia CMS in production