Aloia CMS: The flat-file content management system for Laravel
Aloia CMS is a flat-file content management system for Laravel. Ship your content quicker, and shape the content management system around your needs, not the other way around. You're in charge of your content and Aloia CMS does the rest.
Documentation
Source code
Most important features
No content management system is complete without a few features that make it work for you and any project you might want to use it with.
Simple to extend
You can easily extend the CMS with your own custom content types. All you have to create your custom content type is:
Extend the base Model
Specify a folder to write the data files to

(Optional)

Specify any required fields
Yes, that's really it!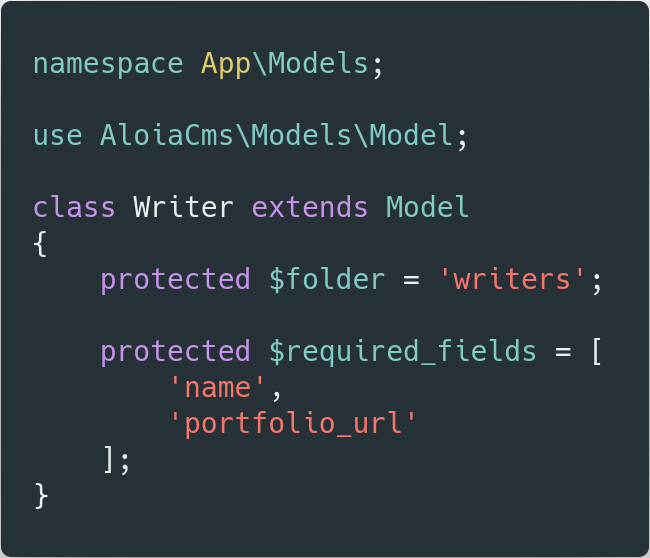 Familiar configuration
Managing content is easy! You can use techniques you might have already used to save your content:
HTML / Markdown / TXT
YAML Front matter
You can choose how you want to write your content, letting the CMS do the rest.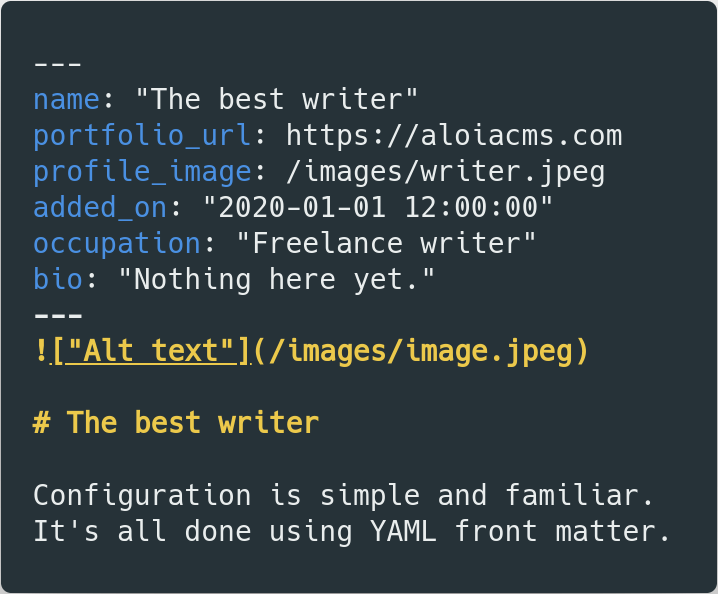 Latest news
May 6, 2022
Aloia CMS 4.1.0: An SEO Module
SEO is vital for your website to be found on the internet. Aloia CMS gets out of your way, but also gives you superpowers from time to time. Aloia CMS will now generate a sitemap of your content types for you, with minimal effort.
Apr 30, 2022
Aloia CMS 4.0.0: Laravel 9, PHP 8, Authentication, and more!
Aloia CMS 4.0.0 is a big one! Laravel 9.x and PHP 8.x support, dropping Laravel 6.x & 7.x and PHP 7.x support, and code for smoother integration in Laravel. This version removes a lot of the bloat of the earlier versions and adds an easy-to-use integration with the Laravel Authentication layer.